Does this sound like you?
You have a story to tell but don't know exactly how to share it on your blog.
You are tired of giving up, quitting, and/or being inconsistent with blogging.
You know blogging can be profitable but have not become successful yourself.
You have been blogging for a while or are just starting out, but still haven't figured out how to make it a successful career.
You feel like you are not ready or are afraid to try because there is so much conflicting information out there.
You want to break into the blogging world but where do you begin?
If this sounds like you, you are in the right place.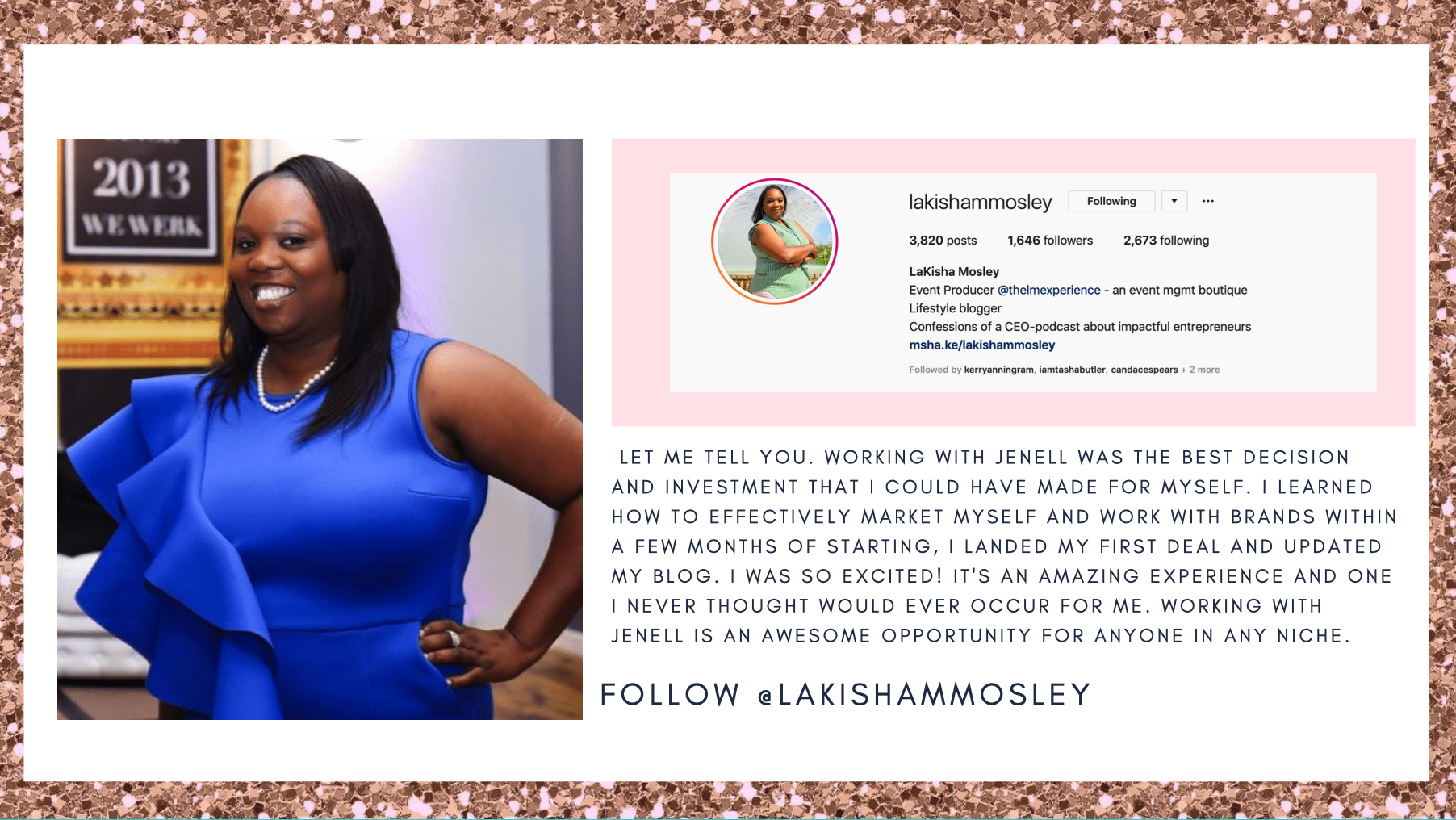 Together we will learn:

Exactly why you are taking the road less traveled

How to use your goals as the driving force for your blog

How to push forward even after falling off the blogging bandwagon
"After attending my coaching session with Jenell, I walked away thinking about how to create quality content. Especially when it comes to IG removing likes and how that will affect brand partnerships. If I create quality content, brands will want to work with me. Content isn't hard to find because content is literally all around me! Just sharing the things I do and use in my everyday, and sharing it in an authentic, interesting way is what will get me the brand deals I want. - Danyelle Jacobs, @napturallydany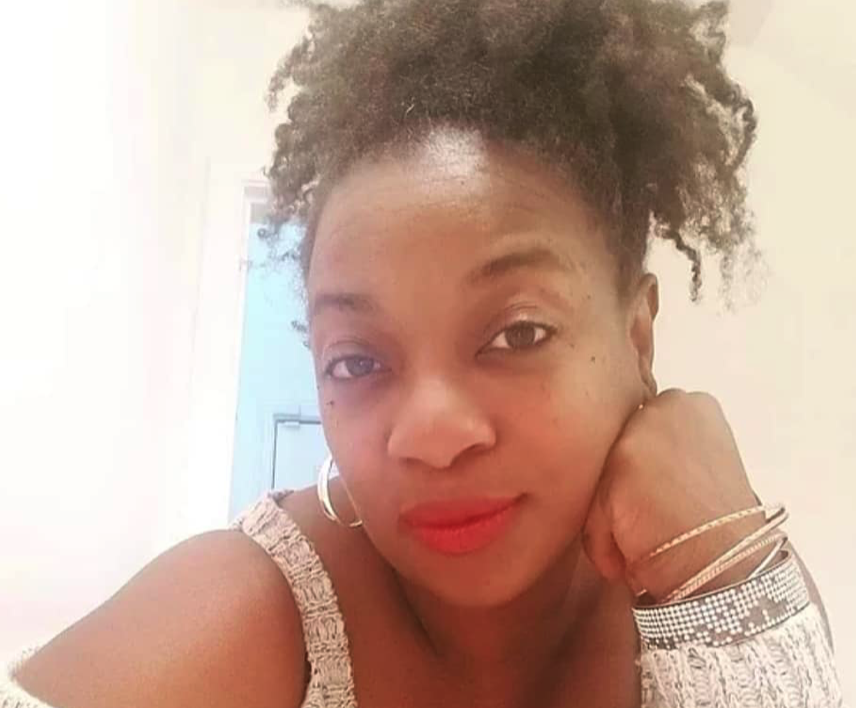 " I appreciate Jenell's transparency and genuine desire to see others. Finally, I'm coming to see myself as one who can be we paid for what I love doing naturally as a blogger, author and foreign language consultant. I have in fact had my own business along these lines in the past, but I ALWAYS struggled with the pricing to truly gain what I'm worth. I'm so excited to be working with Jenell and under your leadership I know I will advance to the next level in this digital age." Heather S. Martinez,
@CanvasInkSpeaks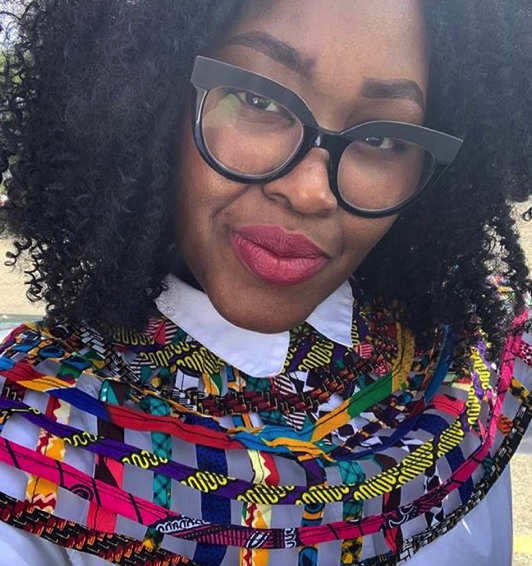 "I was trying to explain to my husband last night, and he just couldn't understand how I'd be getting paid to post. I was like "Babe... just hold the baby so I can put in this work!" This morning I woke up to one brand commenting on one of my pictures, and another liking it. Small steps but HUGE victories on my journey. I'll definitely continue to attend the coaching sessions with Jenell!"- Tasha- Richel Setsofiah,
@setsoinlove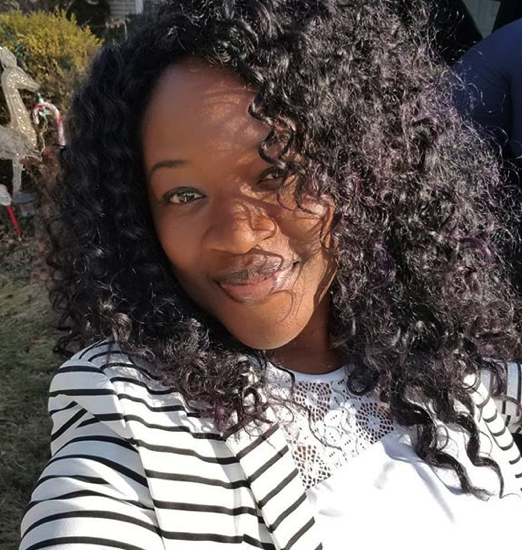 "I am thankful that I decided to work with Jenell. Jenell is an amazing woman and everything she does is well thought out. She is really here to help people who want to grow their businesses. I would absolutely recommend this program to anybody who is seeking to grow their following, to grow their business and to grow themselves."-Aku-Sika Frimpong,
@theafricanlegacy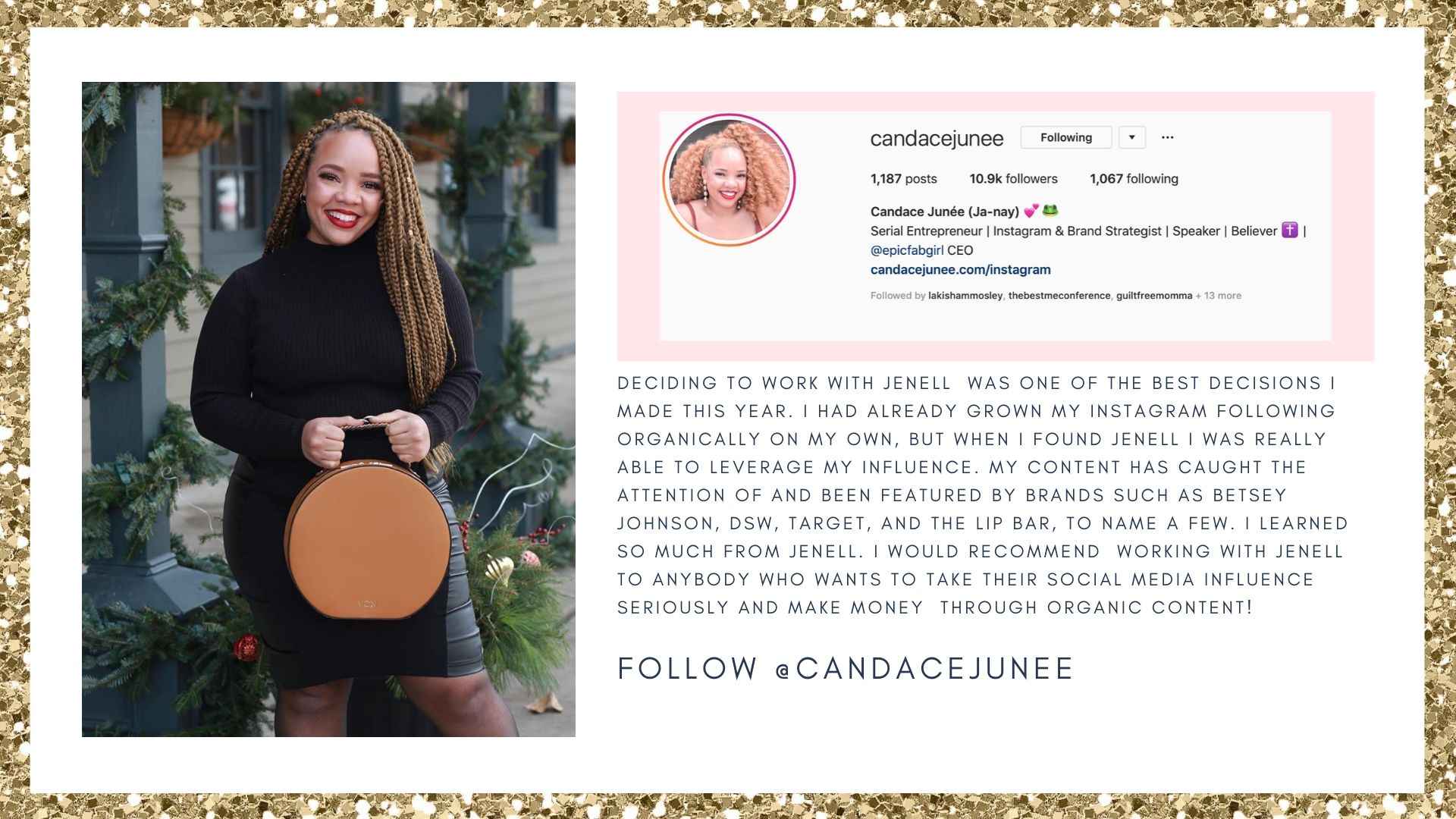 Here are the bonuses you will receive with this program: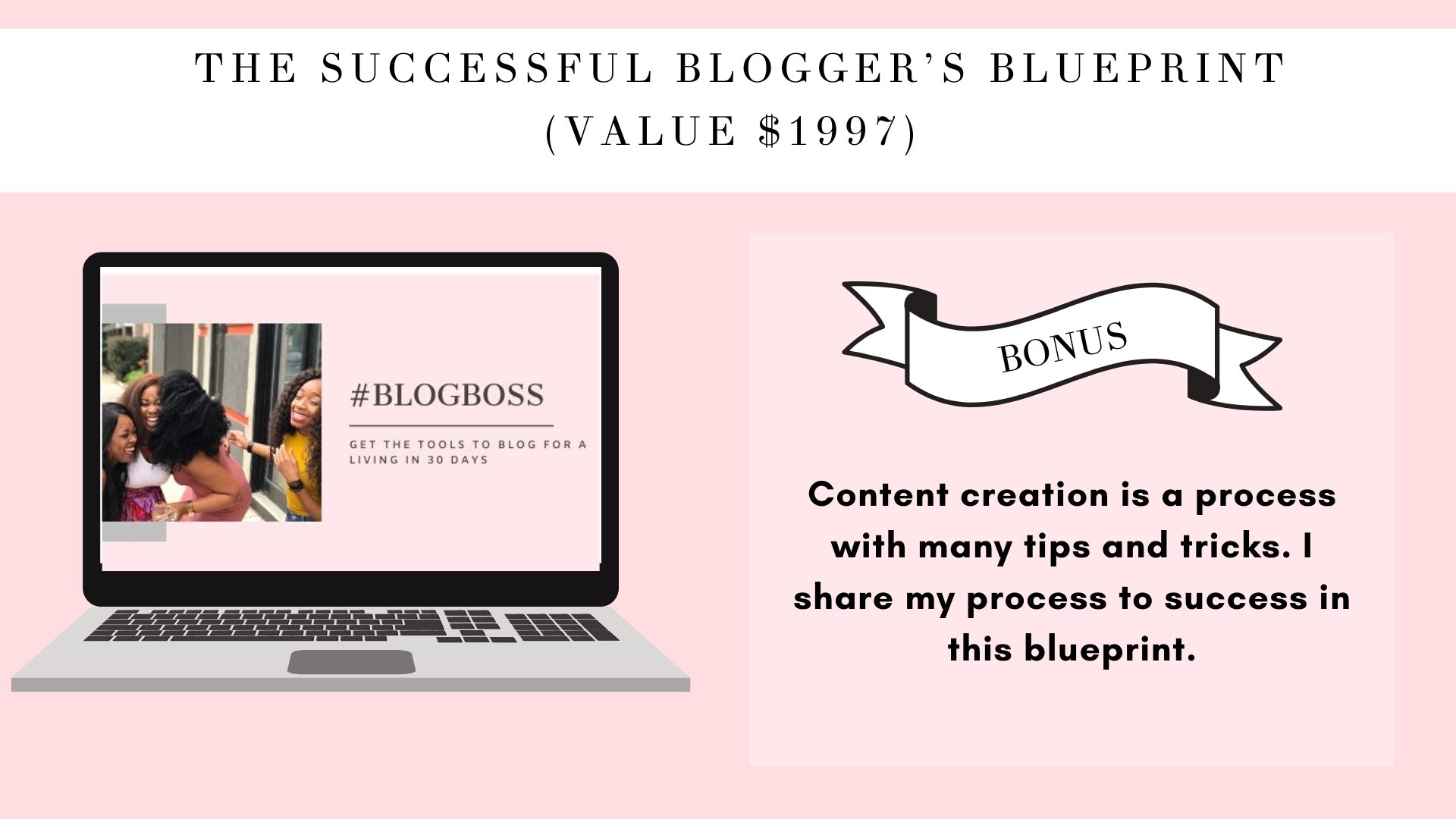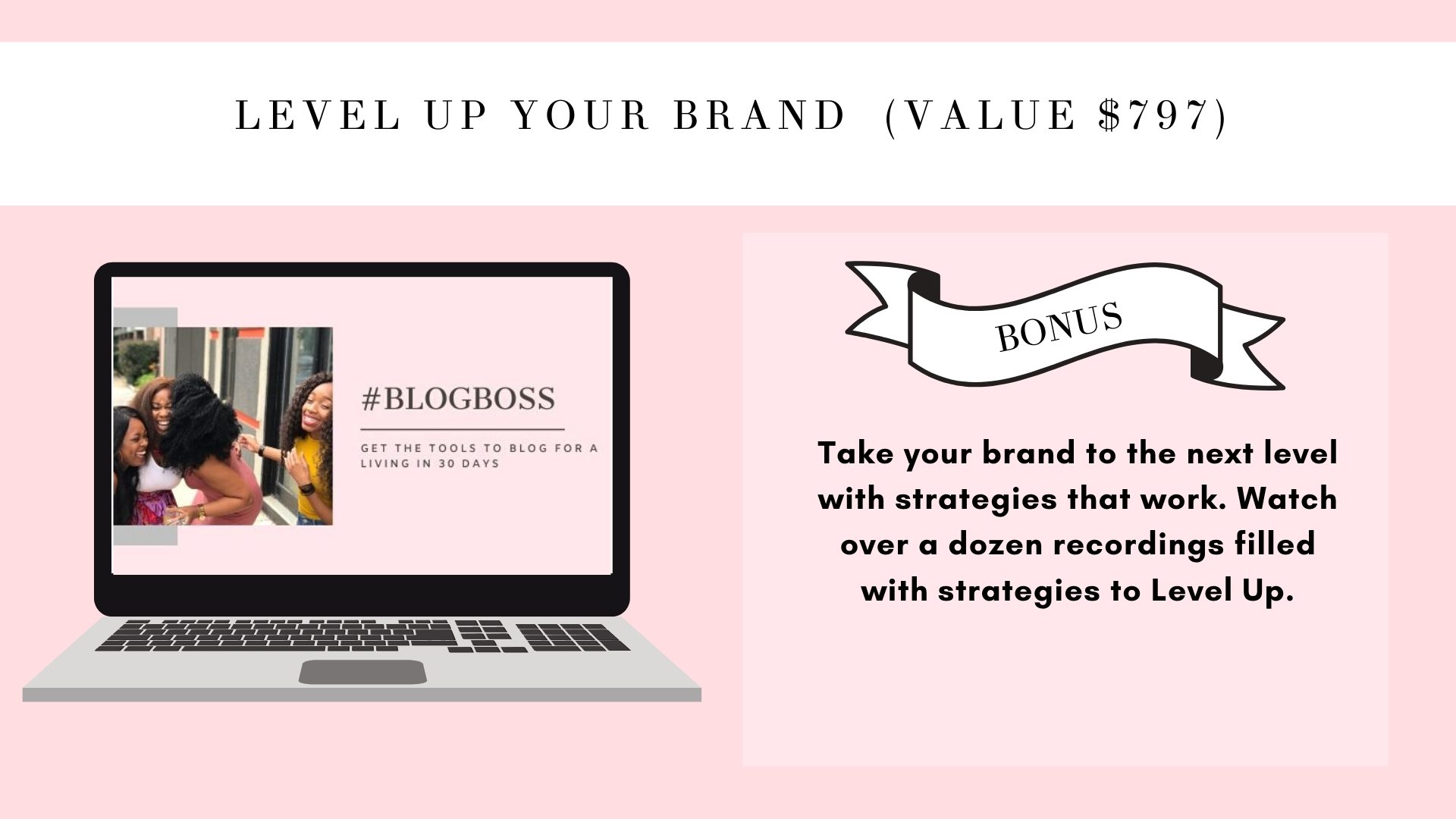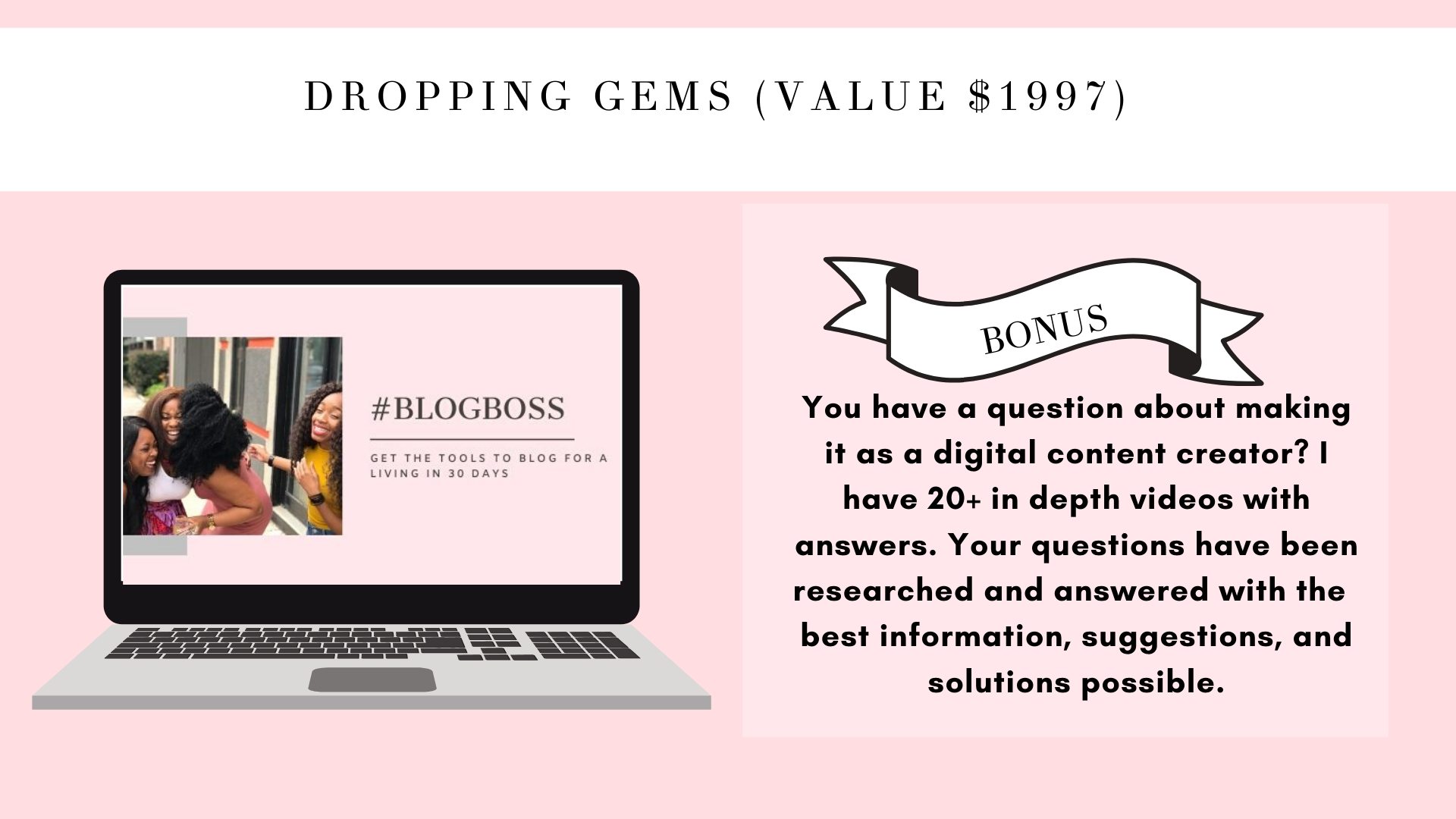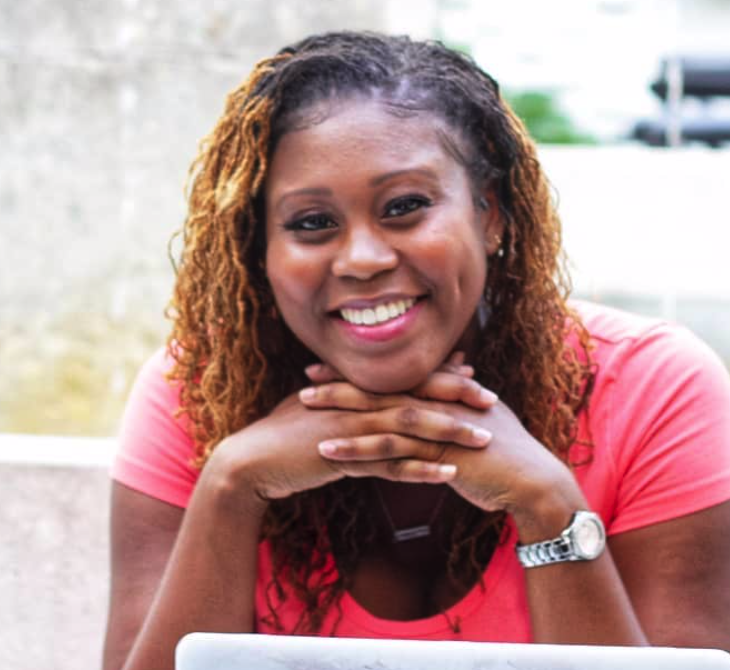 "I've had some exciting accomplishments since working with Jenell B Stewart. I am currently working with 5 brands! 1 subscription box brand, 2 maternity fitness wear brands, 1 vegan skincare brand, and 1 hair satin products brand. Another big accomplishment is now have more clarity in exactly what I want to do and more confidence in believing I can actually achieve it. I'm very happy with what I learned so far with Jenell's help." -Nicole Vasco,
@nicolekvasco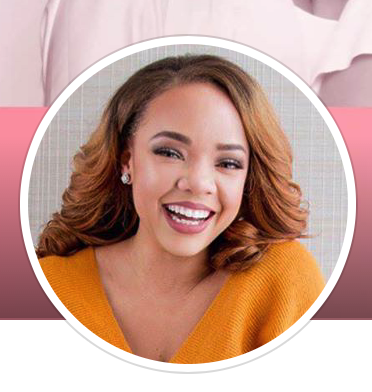 " I landed my first travel brand deal after enrolling in Jenell's program. I'm excited because I used Jenell's tips on how to update my media kit to get these results. I'm excited because this gives me the confidence I need to keep going!"- Candace Armour,
@candacejunee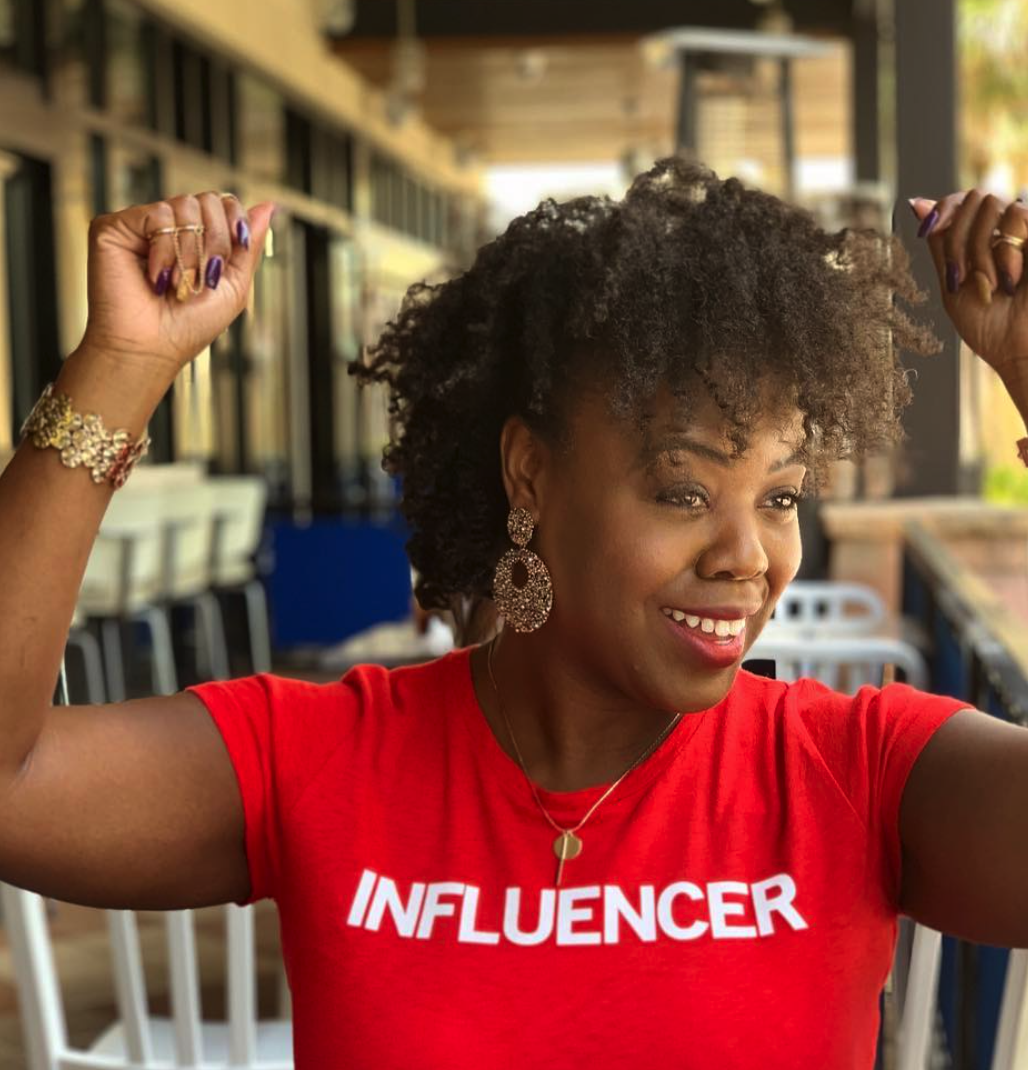 "Since becoming a member I've learned how to research relevant topics for my audience to answer the hard questions they are looking for. I've taken EVERYTHING Jenell says and I've put it into practice. This course has helped me overcome self doubt and procrastination. My motivation has excelled!" -Sandra Elidor, @parentingplug
And there are even MORE bonuses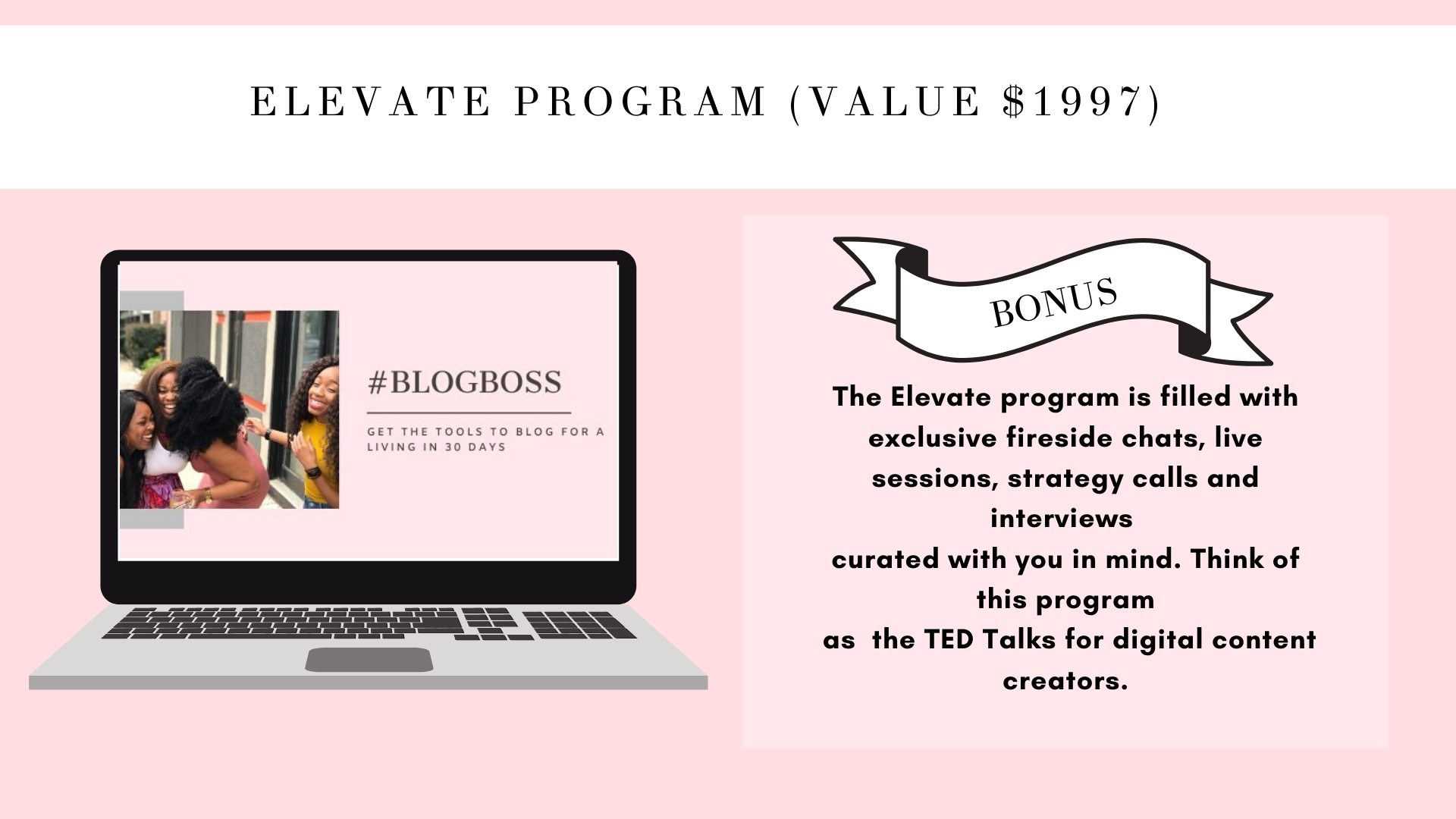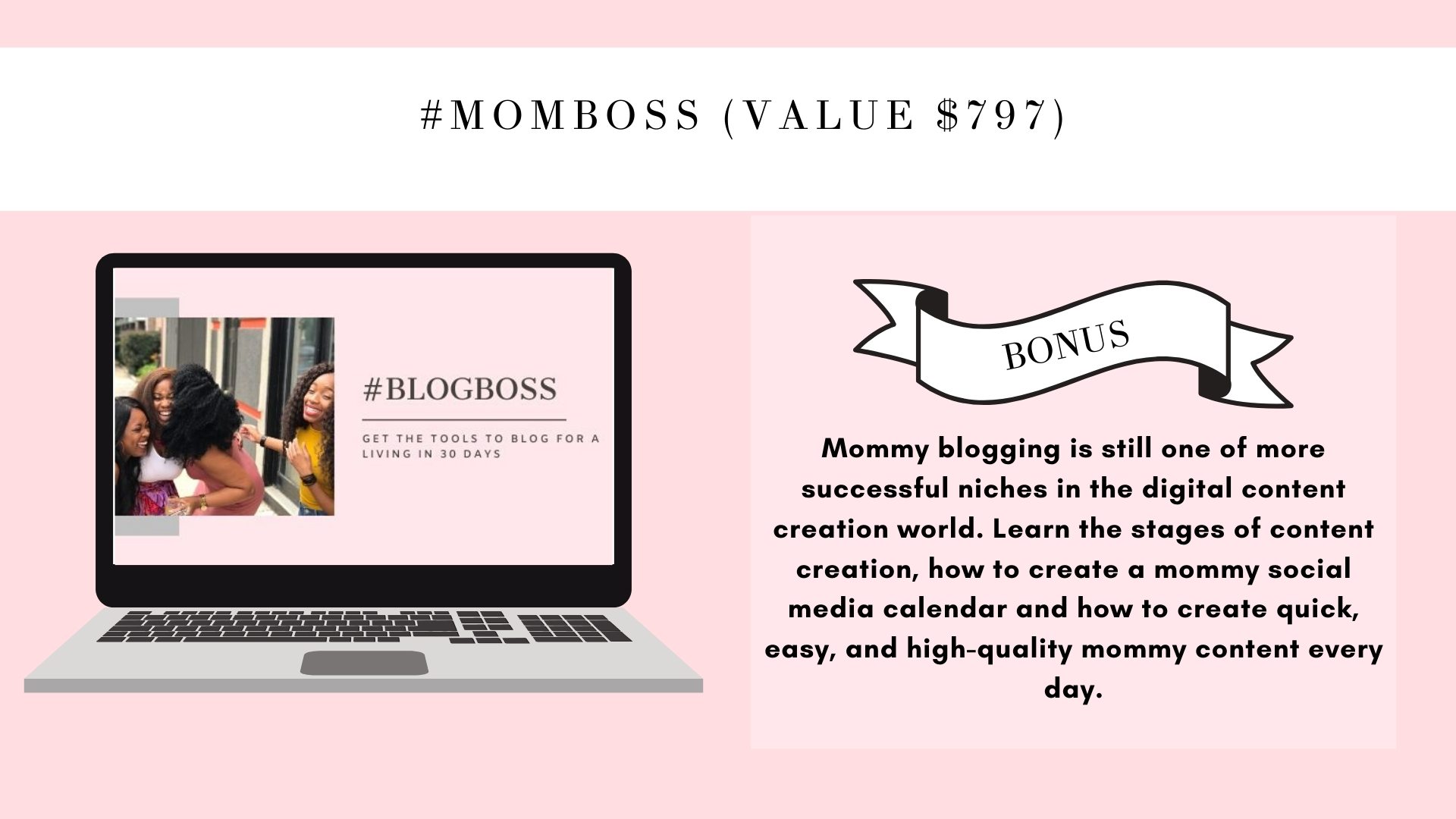 Your Instructor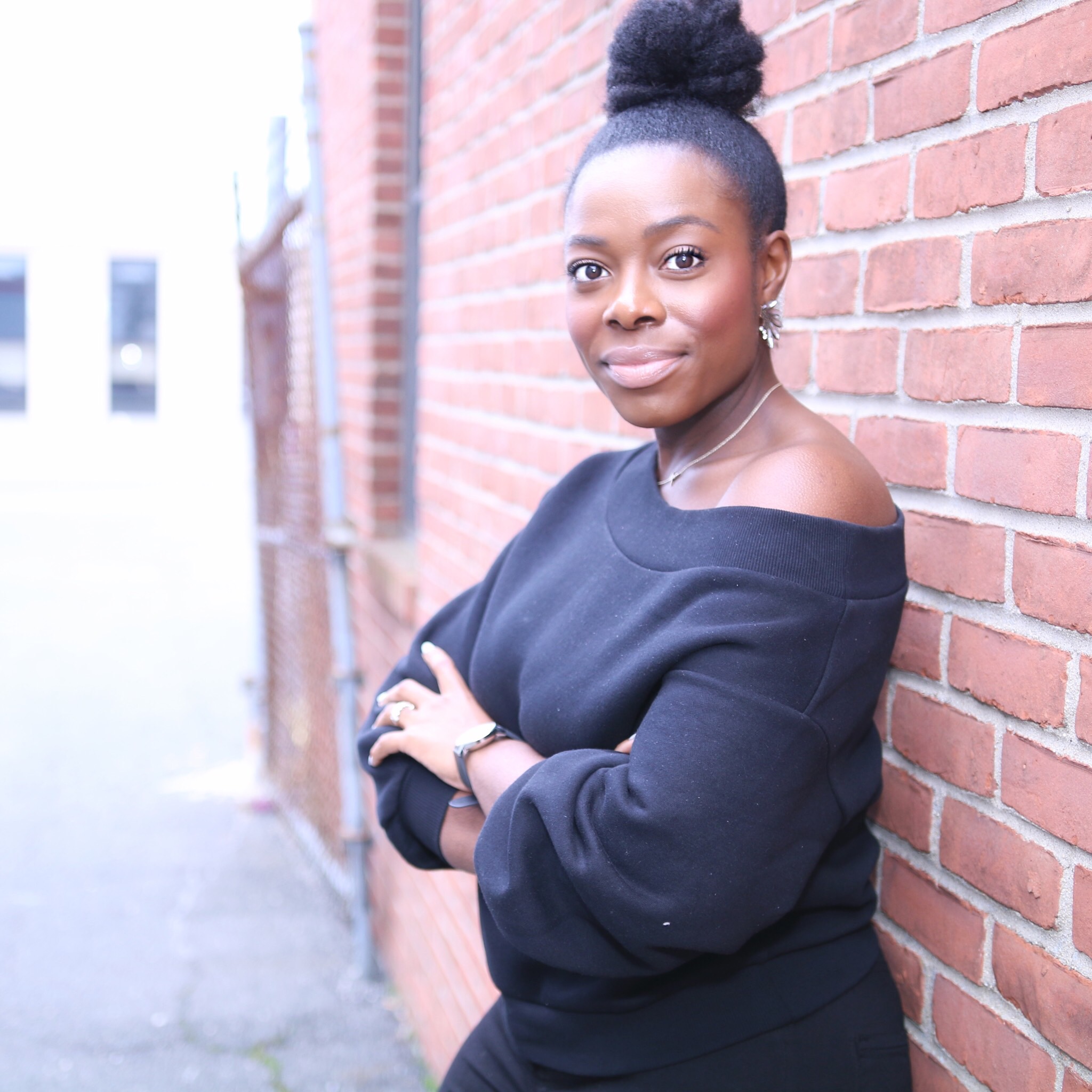 Jenell B Stewart MS Ed, is the founder and editor in chief of the award winning website KinkyCurlyCoilyMe.com. With every article, Jenell pushes beauty boundaries to reach new readers.
With her successful beauty YouTube channel, Jenell has taught millions of viewers how to care, style and nurture their natural hair.
Jenell has won Peoples Choice Awards, been featured in Essence Magazine, Black Enterprise.com, and starred on the Dr.Oz television show as a Beauty Expert.
She's a wife and a mom to two adorable children who keep Jenell extremely active with all of their many activities.

Over the last 9 years Jenell has risen to the top as a leading lifestyle content creator working with large corporate companies such as Wells Fargo, Progressive, Amazon, BJ's Wholesale, Samsung, Bounty, Clorox, JC Penney, and many more.
Her keen sense of marketing mixed with social engagement sets her apart in the digital media space.

Keep up with @JenellBStewart – Blog, FaceBook, Podcast, YouTube, Instagram, Twitter, Pinterest, and LinkedIn.
Frequently Asked Questions
When does the course start and finish?
The course starts now. You will have access to all of the bonuses right away.! It is a completely self-paced online course - you decide when you start and when you finish.
How long do I have access to the course?
How does lifetime access sound? After enrolling, you have unlimited access to this course for as long as you like - across any and all devices you own.
Refund Policy, Earnings Disclaimer and Legal:
Due to the immediate, direct access to #BlogBoss Program course materials, videos and assets, we do not offer refunds of any kind for #BlogBoss Program. We are very firm on our refund policy.
Please read the course details and information provided about The #BlogBoss Program and description so you understand exactly what is in the course and what you will learn.
Enrolling in The #BlogBossProgram is like any other college course. You are registering with the intent to learn but if you don't show up or your financial aid changes, the school doesn't give you a refund. Same principles apply with The Digital Content Creation School.
The #BlogBossProgram is for serious students only. We have spent a large amount of time and effort into designing The #BlogBoss Program so you can succeed and you must invest the time to see results. Feel free to reach via email [email protected] if you have any questions.
WHEN YOU PURCHASE ANY PAID CONTENT:
When you receive any of Jenell's course content, including, but not limited to, courses, course materials, videos, audio, quizzes, lectures, webinars, workshops, products, workbooks, ebooks etc. you acknowledge that:
You will not copy, duplicate or steal her website or course content. You understand that doing anything with her website or it's content that is contrary to these terms and conditions and the limited license she is providing to you herein is considered theft, and she reserves her right to prosecute theft to the full extent of the law. (Just don't do it!)
You are allowed on occasion to download and/or print one copy of individual pages of the website or course's content for your personal, non-commercial use. However, you must give Jenell full attribution and credit by name, keep intact all copyright, trademark and other proprietary notices and, if used electronically, you must include the link back to the specific website page from which the content was originally obtained.
You may not in any way at any time use, copy, adapt, imply or represent that Jenell's website or her course's content is yours or created by you. By downloading, printing or otherwise using her website or her course content for your personal use you in no way assume any ownership rights of the Content – it is still her intellectual property.
You must receive Jenell's written permission before using any of her website's content or her course's content for your own business use or before sharing it with other people. This means that you may not modify, copy, reproduce, republish, upload, post, transmit, translate, sell, market, create derivative works, exploit, or distribute in any manner or medium (including by email, website, link or any other electronic means) any website content or course content because that is considered stealing her work (and again, would make her very, very sad.)
Jenell is granting you a limited license to enjoy her School, Courses, Classes, Webinars and its Content (and all of her Paid Content) for your own personal use, not for your own business/commercial use or in any way that earns you money, unless she gives you written permission that you are actually allowed to do so.
Failure to abide by the above terms and conditions may result in you being, for lack of a better word, kicked out of her courses and programs.
When you enroll in #BlogBoss Program, you're acknowledging that you have received and agreed to these terms.